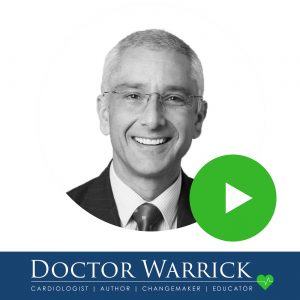 Press and Media:  Reporters, Radio and Podcast Show Hosts – Book Warrick for a great and interesting interview!
Doctor Warrick Bishop is a cardiologist with special interest in cardiovascular disease prevention incorporating imaging, lipids and lifestyle.
He is also the author of "Have You Planned Your Heart Attack?" with over 20,000 copies in print; the book is a discussion for patients and doctors about how we can be most precise about cardiovascular risk and save lives!
Graduating from the University of Tasmania, School of Medicine, in 1988. He has worked in the Northern Territory and South Australia before completing his advanced training in cardiology in Hobart, Tasmania, becoming a Fellow of the Royal Australian College of Physicians and Member of the Cardiac Society of Australia and New Zealand in 1997. Working predominately in private practice.
Warrick is also a member of the Australian Atherosclerosis Society and regularly contributes to education, guidelines, and industry in this area. He has also developed a particular interest in diabetic-related risk of coronary artery disease, specifically related to eating guidelines and lipid profiles.
He is also an accredited examiner for the Royal Australian College of Physicians and is regularly involved in teaching medical students and junior doctors.
In his free time, Warrick enjoys travel and music with his wife, and he surfs and plays guitar with his children.
Book Warrick for a podcast or media interview [ CLICK HERE ]
Hire Warrick for keynote and public speaking engagements
Book an appointment to discuss in more detail
What previous conference hosts have said:
Comments from the Acute Care Conference:
Cardiologist – interesting, engaging. Relevant to practice.
Cardiac Session – it was very informative and engaging
Dr Warrick Bishop – highly informative and engaging
Cardiac Medicine – informative and very relevant
Dr Warrick Bishop – very engaging. Is great at engaging the room
Downloads for media kits on the right